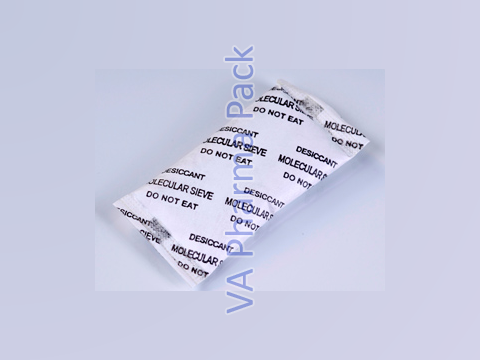 Molecular Sieves packets are types of desiccants that have differing properties from those of silica gel. These materials are synthetically produced of highly porous crystalline substance made of metal-aluminosilicates. The appearance is of tiny opaque pinkish beads made of several internal cavities interconnected by window openings of accurate diameters.

Different traits of the Molecular Sieves packets

• The melting point of this desiccant is slightly less than 2900 degrees Fahrenheit.

• It is an odorless desiccant which means that it can easily be used with food products as well as pharmaceutical products.

• Also, it demonstrates a negligible fire and explosion hazard, making it safe for use in different types of high-temperature applications too.

• Chemically too, this is a very stable material which means that it won't react with other substances.

• Workers handling this desiccant aren't exposed to any known chronic health hazards. OSHA, NTP or IARC has not listed it as a carcinogen.

• The only precautions one needs to take while handling this material is the proper use of masks and gloves as eye or skin contact could irritate. It should be handled in an area where there is appropriate ventilation.

Uses of Molecular Sieves packets

• They can either be used individually or custom blended with some other desiccants to give you an optimal adsorption solution.

• Different desiccants have different adsorption capacities. In the case of a molecular sieve, you can expect it to absorb moisture or gas up to 20 times its weight.

• Since it is one of the most aggressive desiccants available in the market today, it costs significantly more than its other counterparts.

• Where tight humidity control is needed, there couldn't be a better option than this particular desiccant. That's precisely why it's used in places such as museums to protect invaluable artwork from the adverse effects of moisture and humidity. The right use of this desiccant can allow you to bring down the relative humidity to as low as 10%.

• Several pharmaceutical companies make use of molecular sieves to protect packaged drugs and antibiotics from humidity, especially during the transportation and warehousing stages of the distribution cycle.

• The efficacy and suitability of this desiccant are determined by its pore size. These pore sizes are measured in Angstroms. The common pore sizes are 3A, 4A, 5A, 8A, and 10A.

Types of molecular sieves currently available are:

Type 3A sieves:
This type of molecular sieves is appropriate for drying liquids such as acetone, acetonitrile. The material is delivered as beads or pellets.

Type 4A sieves:
This type of molecular sieves is appropriate for drying chloroform, dichloromethane. This can also be suitable for low-pressure air drying. The material is supplied as beads, pellets or powder in packets.

Type 5A sieves:
These sieves adsorb larger molecules than type 4A. This is the type usually used for drying gases, though organic liquids such as THF and dioxane can be dried with this type of molecular sieves.

Type 13X sieves:
This type of Sives enables many branched-chain and cyclic compounds to be adsorbed, in addition to all the substances removed by type 5A sieves.